INTERVIEW
Atelier de Rijk
Discover the inspiration behind the exhibition.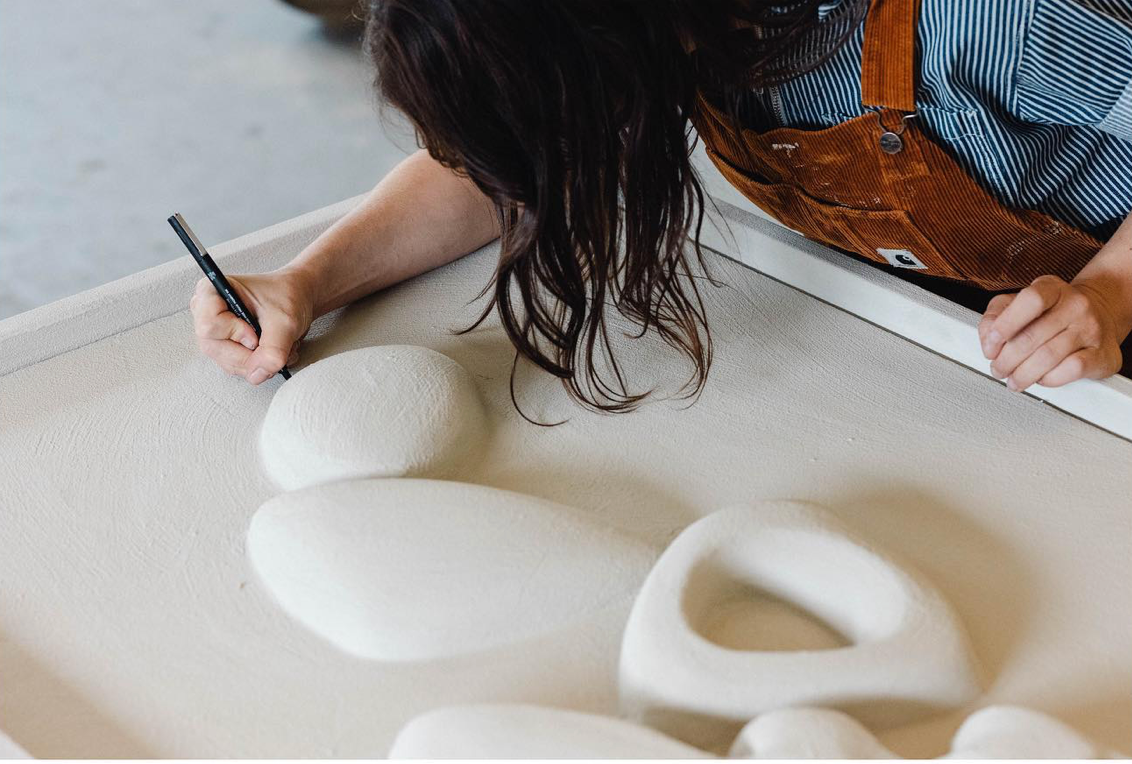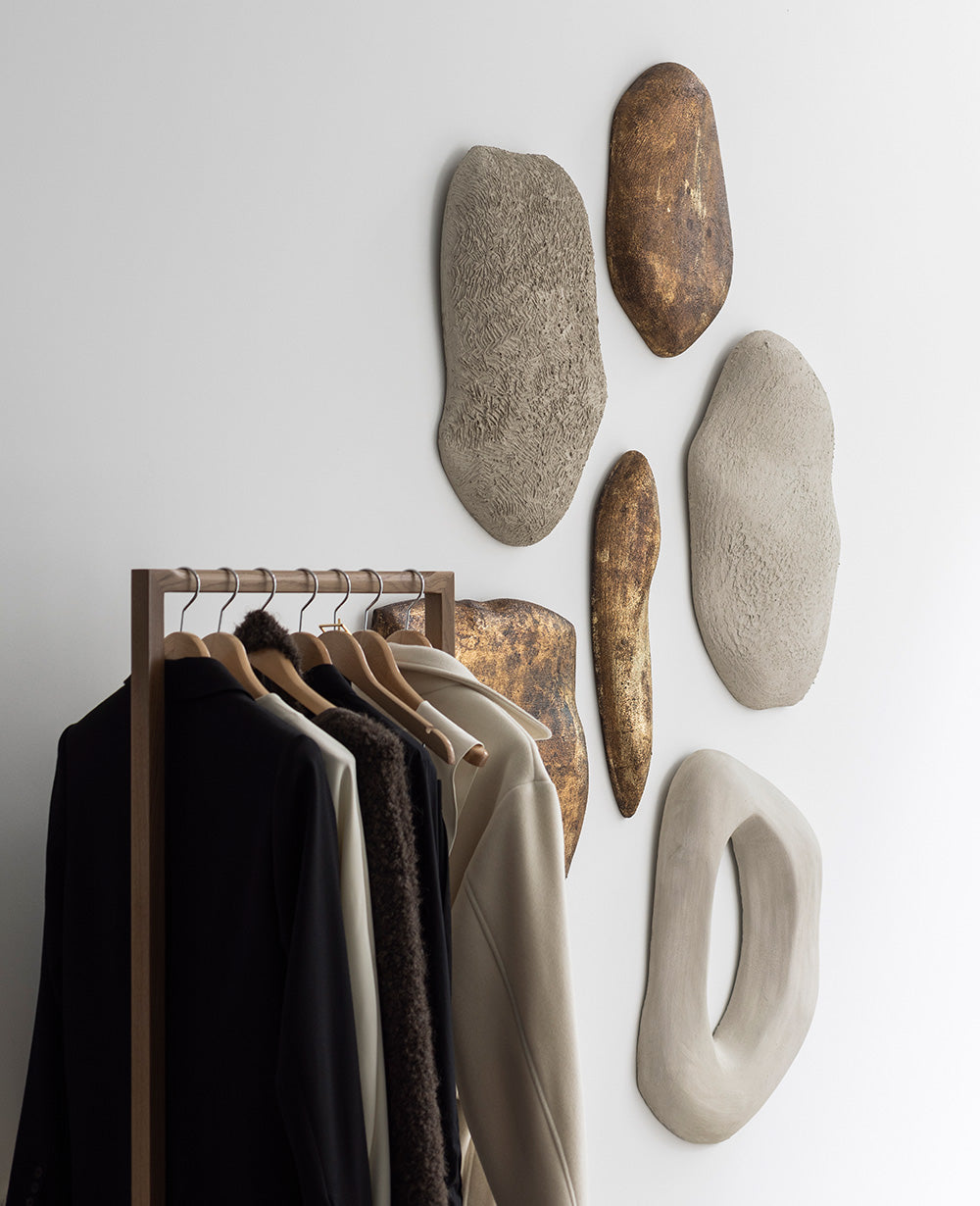 Can you give us some insight into your creative background?
TDR: I spent my childhood surrounded by nature and aspired to be a carpenter later in life. I began my studies in interior architecture here in The Netherlands at the Utrecht School of the Arts. There, I had the courage to express my feelings and flourish in the direction of free art. Over time, I established my own studio, Atelier de Rijk. A laboratory where I approach research and experiments. My own art collection is the result of a 14-year investigation that began in art school with the question: "How can I make everything I use myself?" Consider natural pigment paint, brushes, canvases, slats, and other materials.
"I established my own studio, a laboratory where I can research and experiment."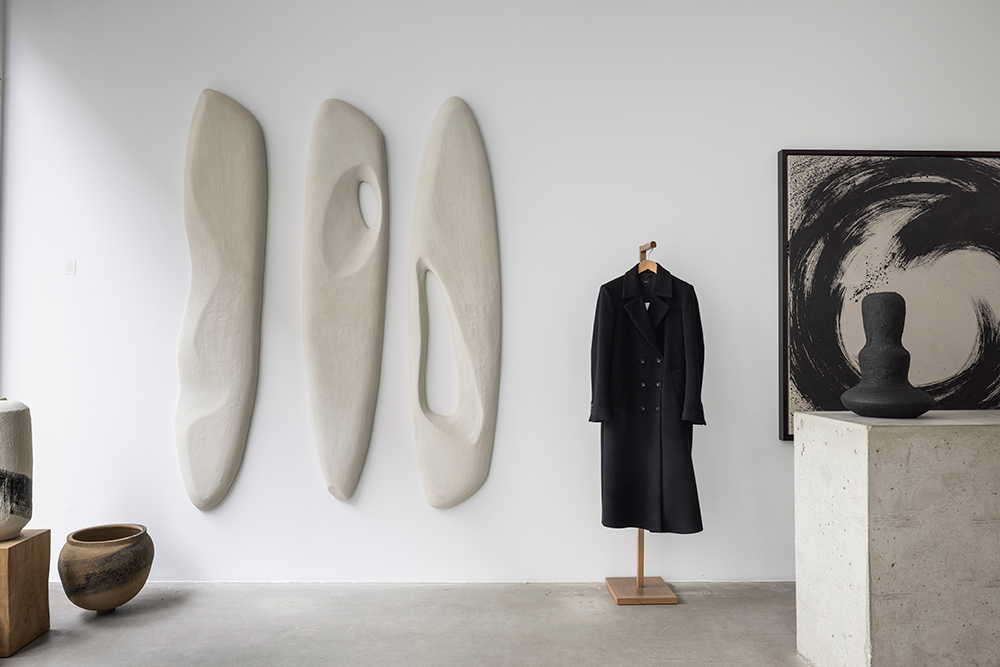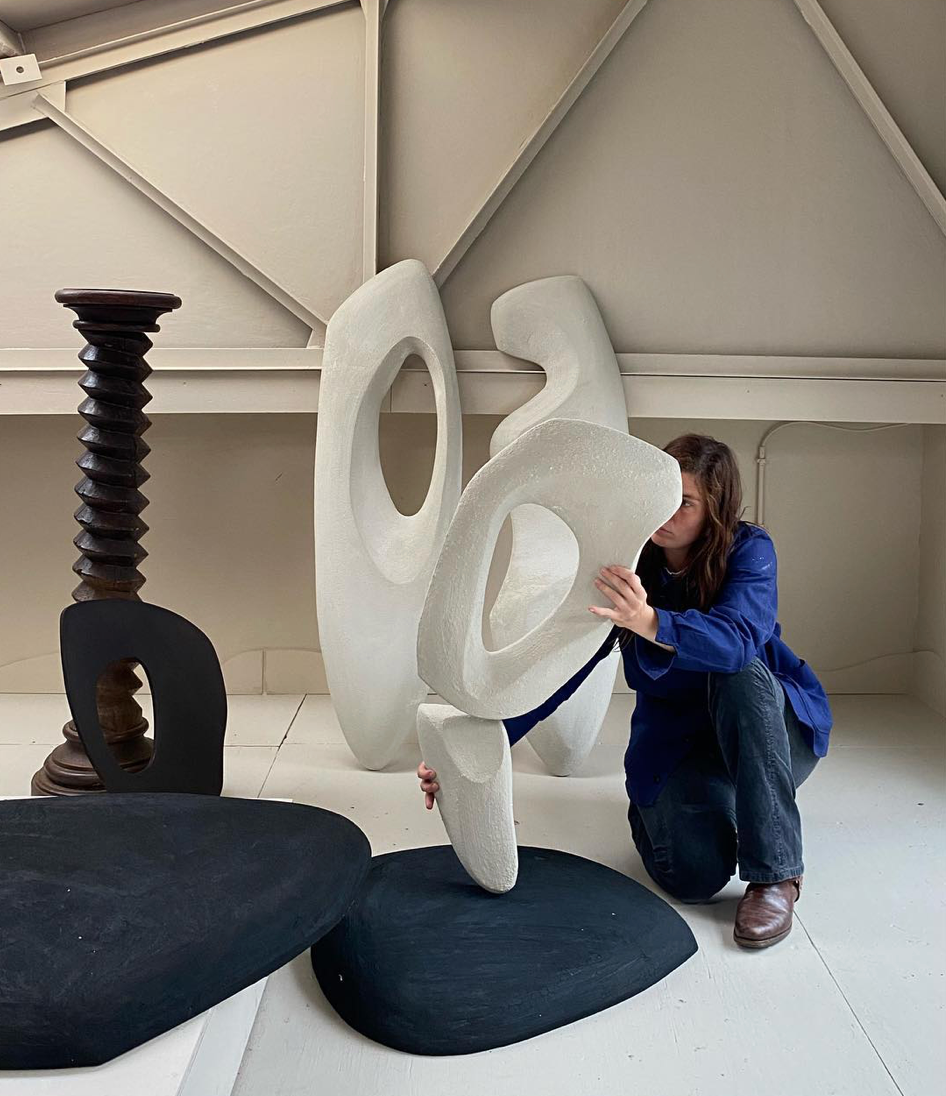 What is art to you and what inspires you?
TDR: It is my life, my research, my mental therapy. Everything around you can serve as inspiration: structures, materials, and the environment, as well as fashion, architecture, and food. This is a broad term that refers to a way of thinking rather than a specific subject to me. 
Have your techniques evolved through the years?
TDR: In recent years, I have expanded my knowledge about this as an autodidact in the laboratory setting. I want to experiment with the ingredients as much as possible so that you can build different structures. - For example, by heating the paint as it dries to create craquelures, or by allowing the work to dry coolly to create a haze over the surface. A sense of calm washed over me as I looked at the finished work in front of me.
What does your artwork represent?
TDR: My studio is one big laboratory, and the works are all related and cascade into one another. They just strengthen each other. First, you have the blueprints, which are painted on linen with various brush textures, to begin with. The object is then given expression through 3D elaboration with natural pigment paint.
What advice would you give to an artist just starting out today?
TDR: Don't wait for perfection; instead, feel free to experiment.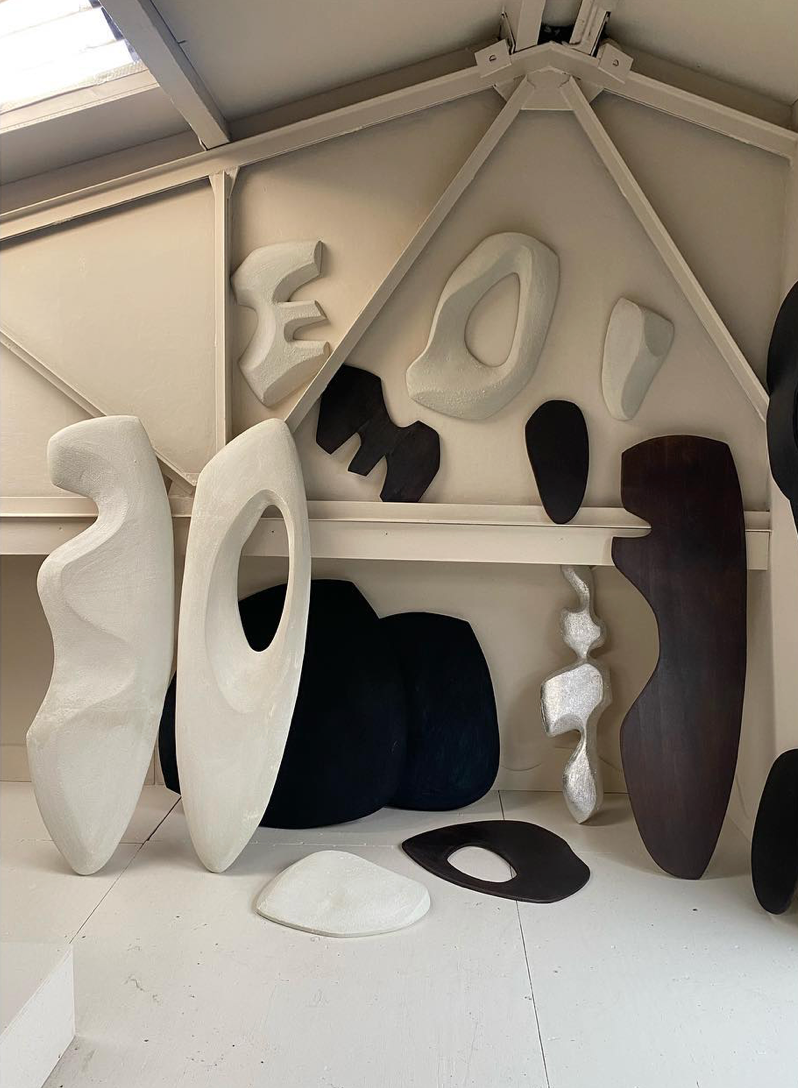 You must spend a lot of time in your studio. How have you made your studio your own?
TDR: I most certainly did. My studio was an old "barn" in which I had built both my home and my studio. This is in Amsterdam. It really contains all the treasures that inspire me. Interior design is also an important aspect of my work. Interior design and artwork, in my opinion, are always a team effort. So, I remember that. The experiment can be seen in my own home studio. Every principle of sustainable development and angle has been considered, and every detail contributes to the overall composition.
"Materials need to be living and organic, and therefore they demand a human hand."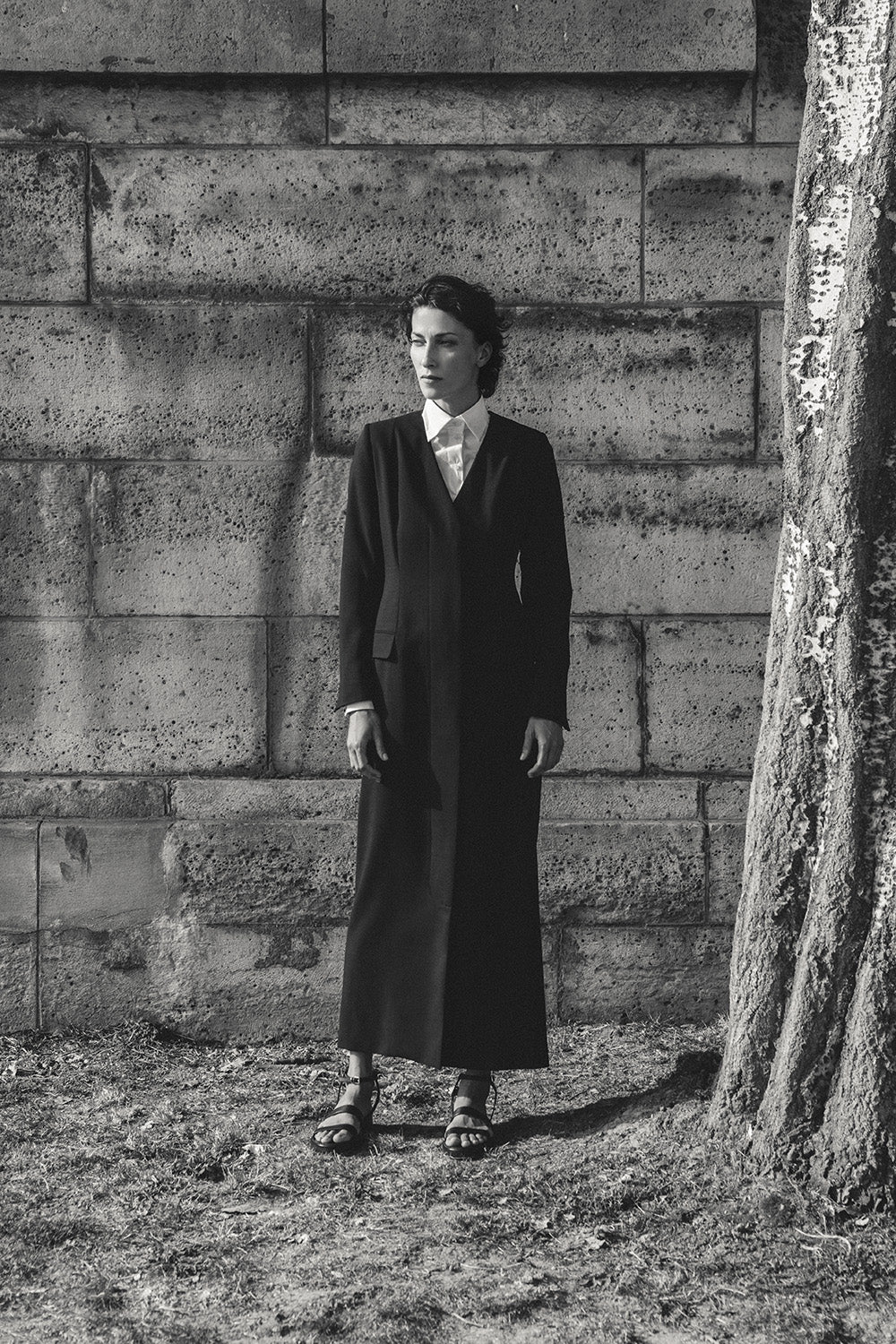 Which is your ideal piece from the collection?
TDR: At the opening of my exposition at La Collection I wore the Virginia Blazerdress. I put it on and it fit precisely. I felt like my own artwork in it. It is like the elongated black work that simply hangs on top. Another piece close to my heart is the Fanny Crochet Collar, with its texture just like my artwork and the Adeline Coat.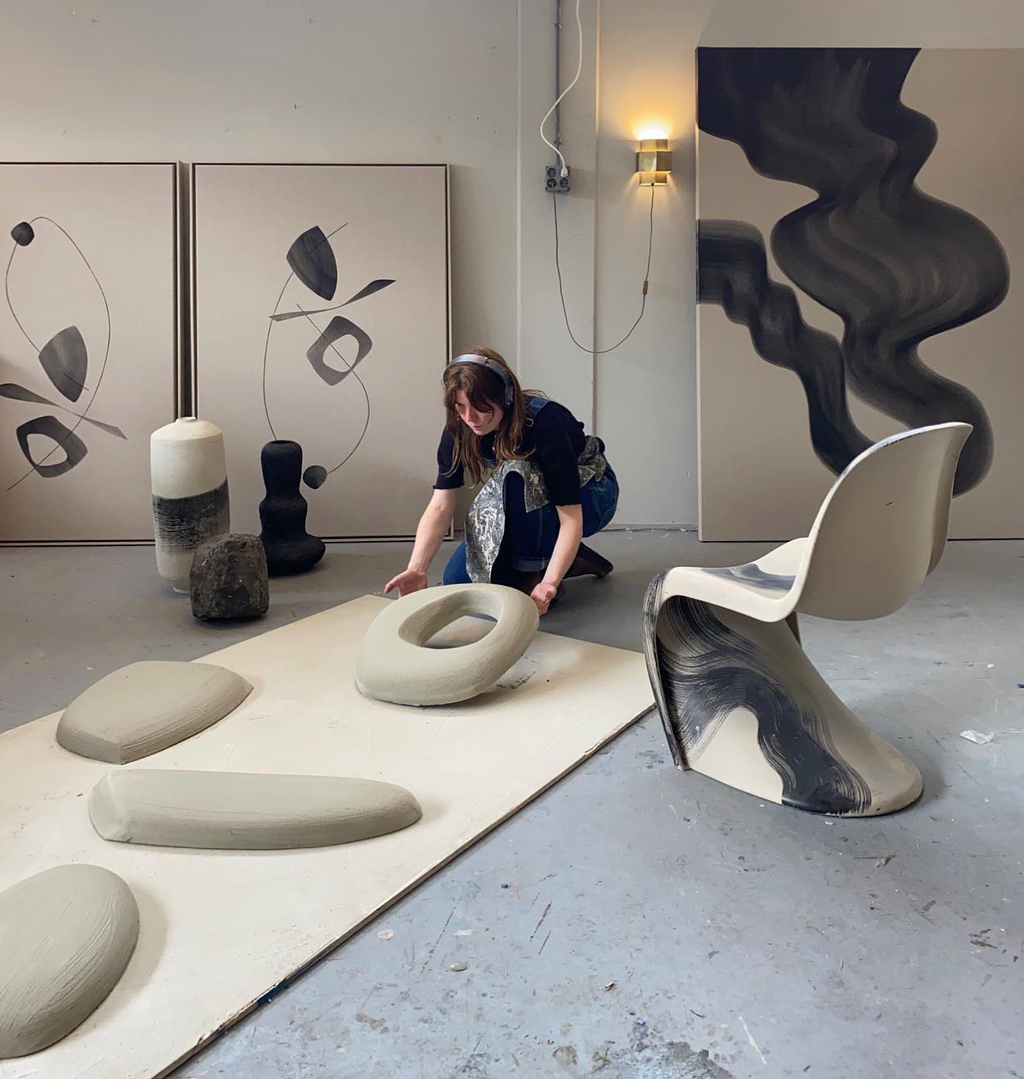 Tessa's favorite spots in Amsterdam:
Japanese Antique Store
TDR: I always pass this store on my bicycle on my way to my gallery. I collect Japanese dolls, each one represents my exhibition and the works. I have a collection of them. I also have one for this exhibition with La Collection.
Verfmolen de Kat
TDR: This is the shop where I buy my natural pigment. It is full of inspiring colors and structures. 
Café de Pels
TDR: A lovely spot to enjoy a good breakfast or to meet some friends for a drink later at night.